6 TRAVEL SKINCARE TIPS FOR GREAT SKIN ON THE GO
Traveling is an exciting experience that allows us to discover new destinations, immerse ourselves in diverse cultures, and indulge in delightful new cuisine. However, all the excitement and change can take a toll on your skin. Dry air on airplanes, changing weather conditions, and jet lag can all contribute to the onset of a dry, lackluster complexion—and even a few breakouts. Short of canceling your trip, there are a few steps you can take to ensure your skin is travel ready. Read on for our top tips and product picks to help your skin have a smooth landing.
WHY IS SKINCARE IMPORTANT WHILE TRAVELING?
If you've ever been on an airplane, you know how drying the air can be. At 30,000 feet, airplane cabins have a controlled environment where the humidity lingers between 10 - 20% (skin's comfort zone is typically around 50%). This drop in humidity can lead to moisture loss from the skin and, in turn, dryness—in the form of dry lips and uncomfortable skin tightness. When you land, changes to your schedule and a different climate at your destination can also affect your complexion. Maintaining a proper skincare routine is vital to the overall wellness of your skin when you travel. What else can help? These six travel skincare tips from our Origins skin experts: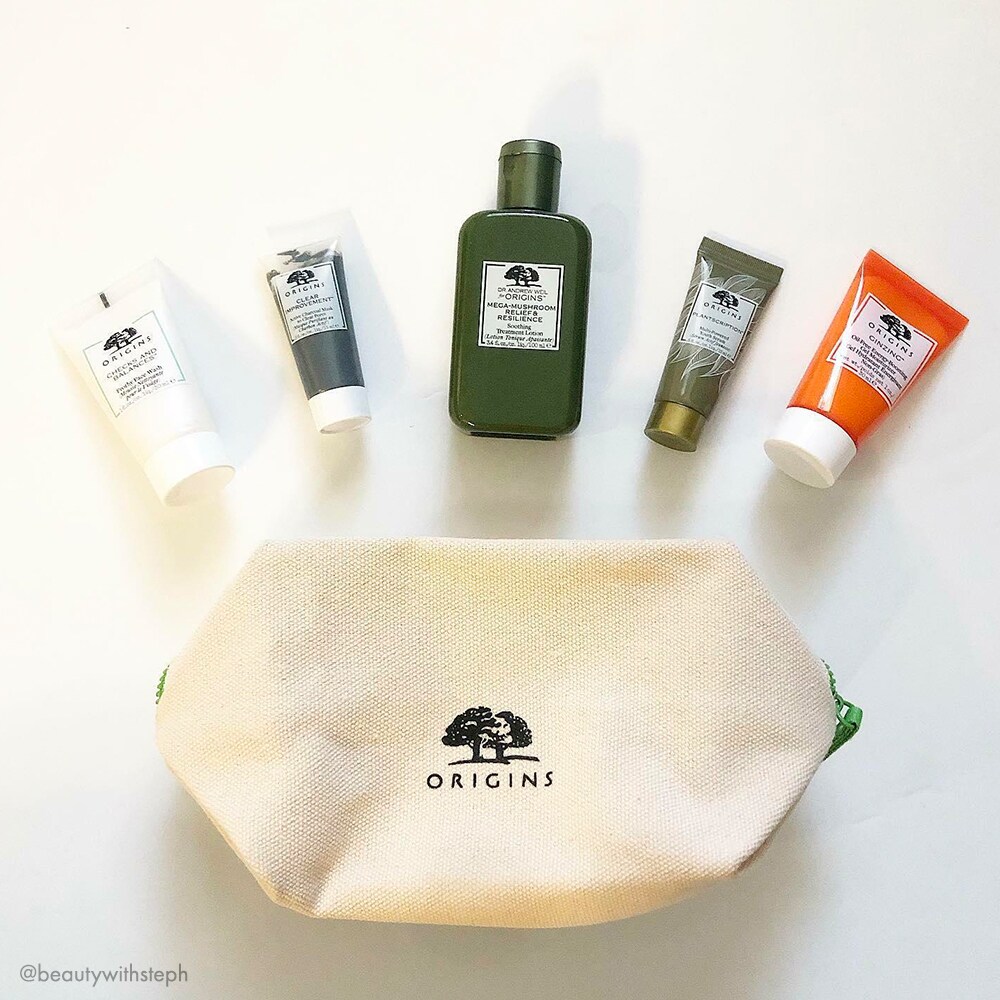 TRAVEL SKINCARE TIP 1:
KEEP A ROUTINE
Bringing your skincare routine on the road is the best possible scenario for your skin. But packing your regimen-–in full sizes—can be a heavy lift. The solution: look for a travel size skincare set that includes products like what you use at home. The most vital products to look for in a travel skincare set are a cleanser, moisturizer, and serum to maintain good hydration and keep skin on track.

A customer favorite travel size skincare set:
Our Best-Sellers Discovery Set packs five travel size bestsellers, including our #1 cleanser for all skin types, charcoal mask, treatment lotion, youth serum and energizing moisturizer in a take-everywhere bag.

TRAVEL SKINCARE TIP 2:
MOISTURIZE MID-FLIGHT
You might enjoy being a mile-high; your skin may not. At high altitudes, humidity levels plummet and can deplete your skin of essential moisture, especially on longer flights. The result can be dry, tight, and irritated-looking skin. In flight, slather on a light lotion or your travel moisturizer to keep skin soothed, hydrated, and even radiant upon landing.
Sky-high approved inflight hydration:
Pack this travel-size Mega-Mushroom Treatment Lotion in your carry-on—it delivers lightweight hydration as it visibly calms and soothes dry, red, irritated-looking skin.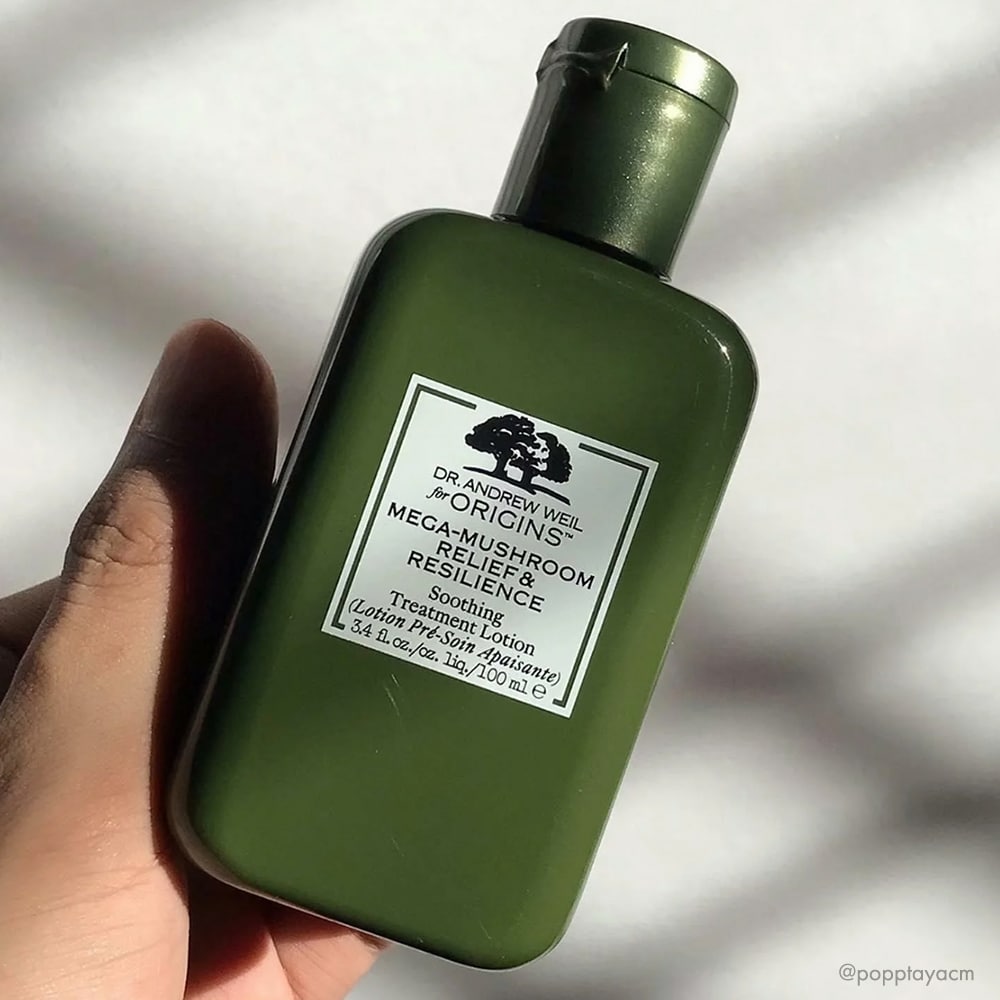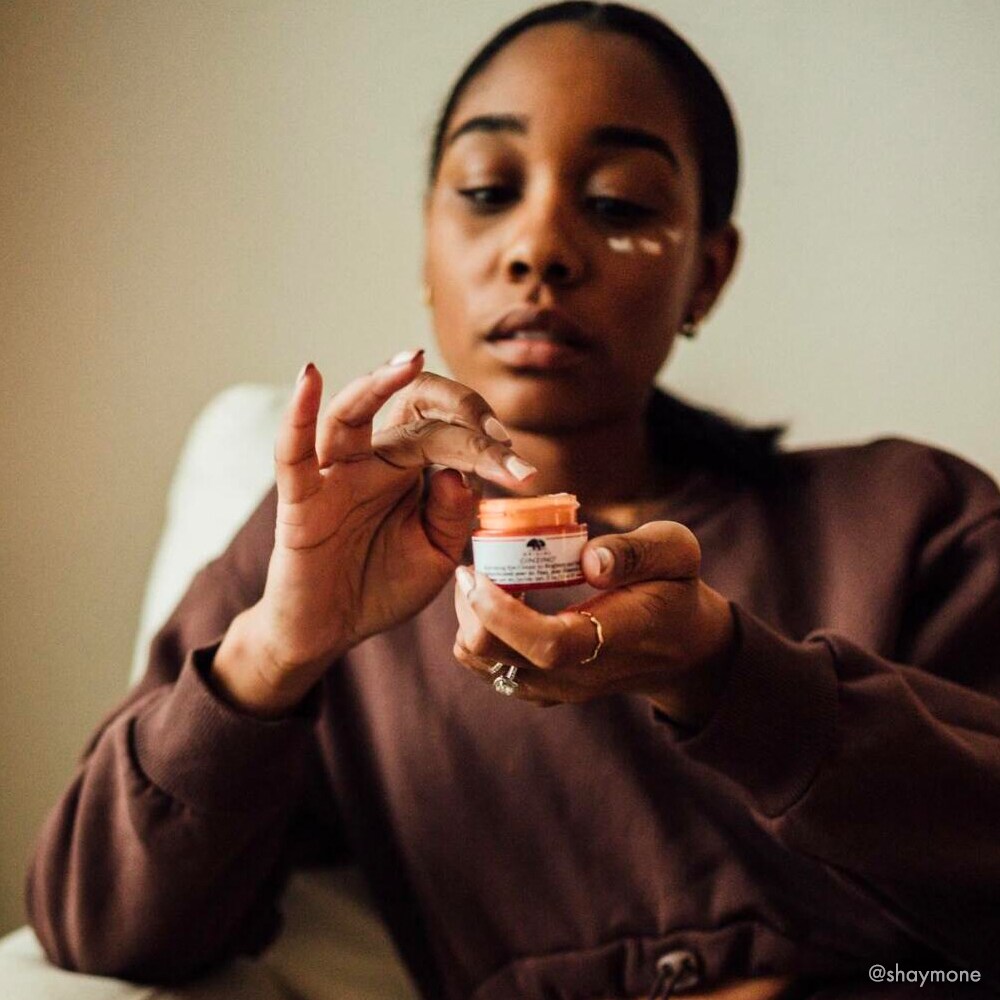 TRAVEL SKINCARE TIP 3:
UNPACK YOUR (EYE) BAGS
Have you ever experienced under-eye puffiness when you travel? One reason for the excess baggage could be a lack of sleep. Whether your hotel mattress has you tossing and turning or the change in time zones is keeping you up, the thin skin under your eyes can reveal your fatigue. Applying the right eye cream may help reduce the look of puffiness, as well as create a brightening effect so you appear more well rested.
A favorite for depuffing and brightening:
GinZing™ On-The-Go Eye Cream, with Vitamin C & Niacinamide, helps visibly reduce dark circles—instantly and over time—while it depuffs, brightens and hydrates. The tub applicator makes it easy and convenient for in-flight and on-the-go applications.

TRAVEL SKINCARE TIP 4:
HYDRATE YOUR LIPS
Dry lips are nearly inevitable when you travel. In flight, low humidity levels can zap moisture from your lips, while a change in weather conditions at your destination can exacerbate dryness. Pack a travel-sized lip treatment in your carry-on and apply it regularly—and generously—to keep your lips hydrated and protected from the elements.

A lip-quenching travel essential:
Drink Up™ Avocado Lip Butter melts on contact to plump, smooth, and comfort lips with lush emollients like Apricot Oil, while it treats them to a buffet of nourishing, conditioning plant butters like Avocado Butter and Mango Seed Butter.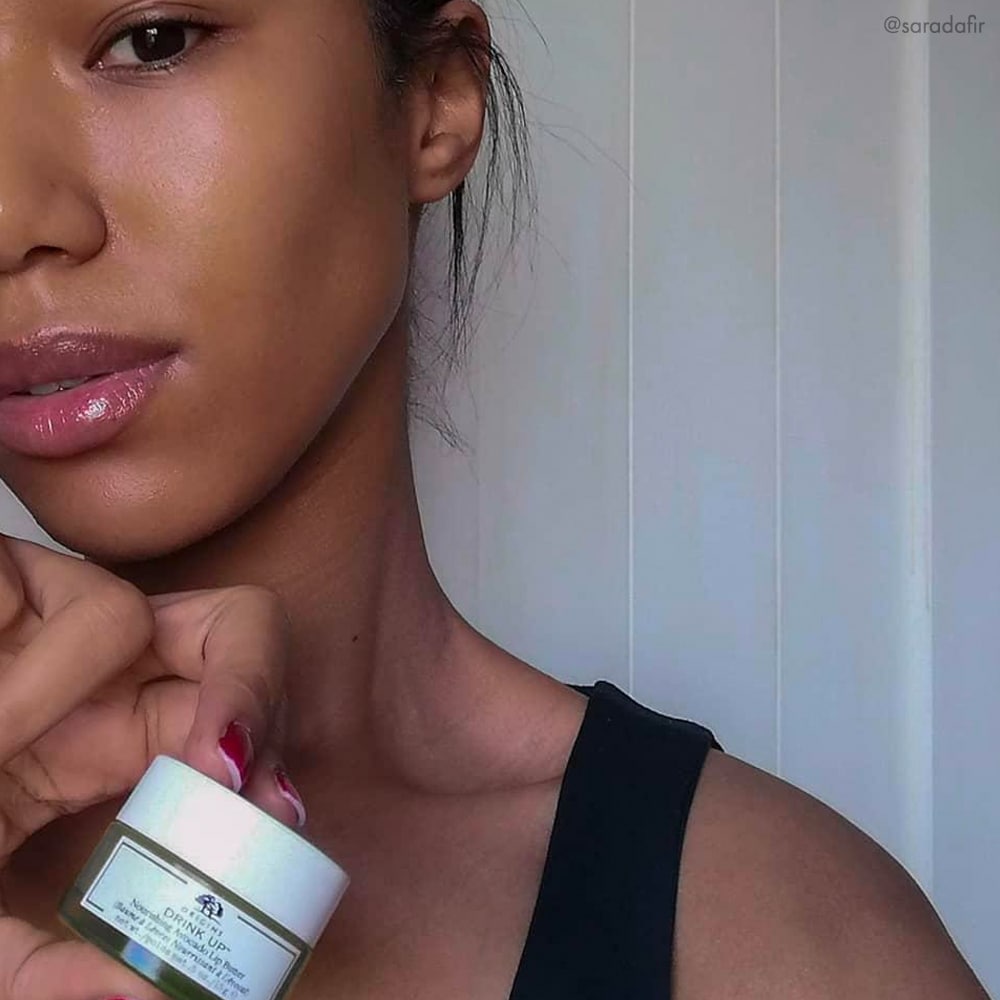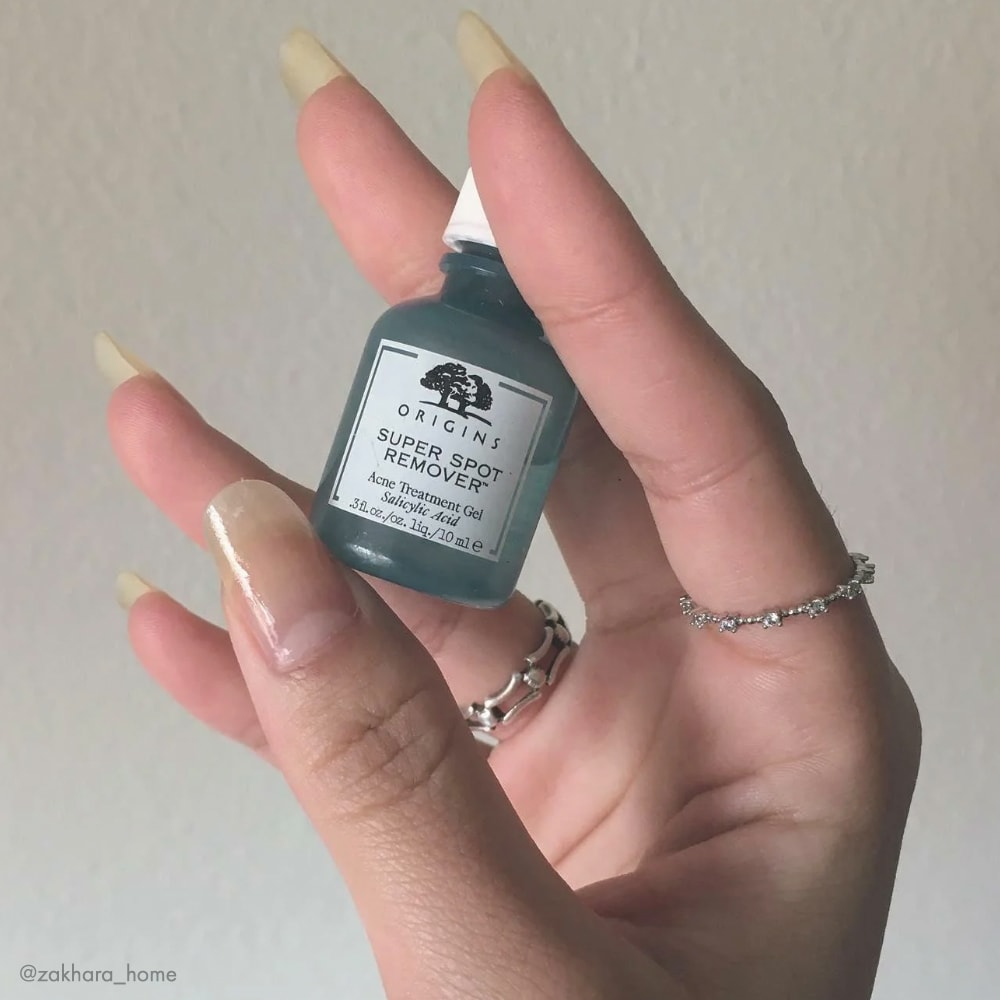 TRAVEL SKINCARE TIP 5:
BREAKOUTS HAPPEN
You may love to travel but your skin isn't always the biggest fan. A combination of factors, like environmental changes, sleep disruption, and even the stress of travel itself, can lead to unexpected breakouts. To help prevent these unwelcome surprises, try to maintain a consistent skincare routine (thoroughly cleanse and moisturize daily) and consider packing a spot treatment, in case of emergency. If a breakout rears its head, a salicylic acid-based spot treatment can help clear your complexion.

A tiny but mighty travel-size skincare treatment:
Super Spot Remover™ Acne Treatment Gel is an on-the-spot, targeted treatment that uses salicylic acid to help clear pores, fight blemishes, and prevent new ones from forming.

TRAVEL SKINCARE TIP 6:
STRESS LESS
The stress caused by travel-related circumstances, like flight delays, lost luggage, or adjusting to a new environment, can have visible effects on your skin. When your skin is under stress, existing issues can be exacerbated. A few ways to help you stay balanced while on vacation is a quick meditation. Even five minutes of breathwork can adjust your mindset. You can also create a playlist with songs that put you at ease, or bring along a sensory treatment, perhaps one formulated with aromatic essential oils, to help you calm and reduce tension.
A take-everywhere, travel-sized sensory treatment:
Peace of Mind™ On-The-Spot Relief is infused with a blend of Peppermint, Basil and Eucalyptus essential oils that help you find your Peace of Mind, on-the-spot. Apply 3 pumps into fingers, take a deep breath and massage into the back of neck, earlobes, and temples, to soothe, comfort and refresh the senses.

Great skin on the go is as simple as being prepared. As you plan your trip, plan your skincare—including a few key products to maintain skin health, as well as a few extras for those just-in-case moments (hello, breakouts and dry lips). Also, do your best to stay hydrated, keep stress in check, and get some sleep. Just by following a few of these travel-friendly tips, your skin will be a sight to see.