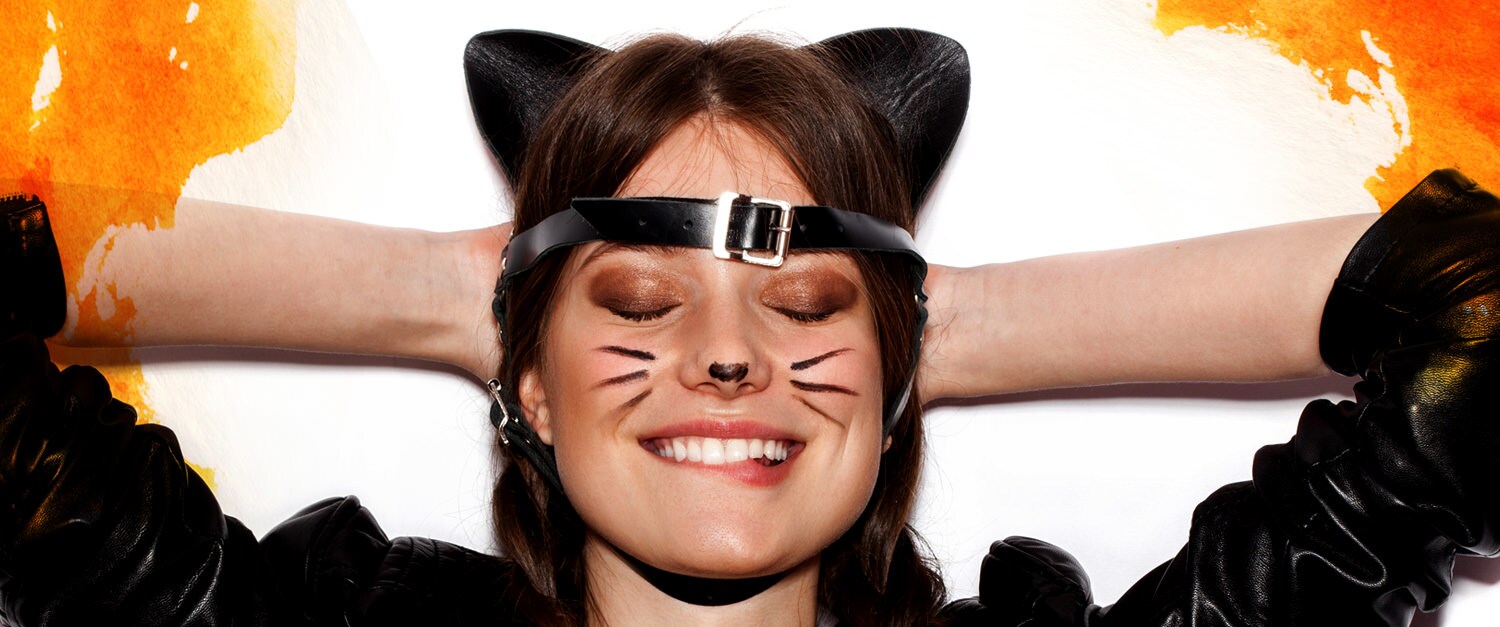 Beauty Tricks & Treats: How to Look Scary Good this Halloween
By Aly Walansky
---
We don't mean to frighten you, but Halloween can wreak havoc on your skin & hair like no other night of the year. It's all fun & games until somebody wakes up with a monster zit or permanently purple mane. But that's no reason to sit on the sidelines come October 31st. A few simple tricks can ensure a night to remember with no scary morning after:
Sugar—Not So Sweet
Halloween & candy go together like Romy & Michele or Kimmy & Titus. But too much of a good thing = a bad thing. "An excess amount of sugar can damage proteins, which leads to wrinkles & sagging," warns beauty guru Grace Atwood of The Stripe.
While it's fine to indulge from time to time (you have to live, after all), following a healthy diet on the reg is important. To offset all that candy when you do decide to go for it, it's important to make sure you're getting enough of Vitamins C & E. They're skin nutrients & can help slow down the aging process. Drink tons of water, too. It'll help flush out that sugar & hydration is basically the best beauty habit to get into.
BYOM (Buy Your Own Makeup)
Halloween can wreak havoc on your skin & hair While the stuff that comes in the set with your costume may seem like a great deal, it's not exactly formulated to be skin-friendly. (There's a reason it used to be called "greasepaint.") Cheap, yes. Non-comedogenic, no.
Do yourself a favor & spring for makeup from a theatrical or professional brand. You'll find enough colors & textures to complete your pun-worthy pop culture costume & you don't have to worry about facing November with a rash or breakout scarier than your costume from the night before.
Wash Well—Really Well
Despite our occasional sweet tooth, we have to admit Halloween is about more than the sweet stuff. It's about creating an eye-catching, stop-them-in-the-streets look. And that takes makeup. Sometimes, a lot of makeup.
Simple tricks can ensure a night to remember with no scary morning after.
Even if you followed our advice & bought legit cosmetics, it doesn't take a skincare PhD to know that spackling on the stuff can be a recipe for disaster (read: breakouts). We're not going to be Debbie Downer here & tell you that you have to forgo a dramatic visage in favor of a minimalist palette (where's the fun in that?). Go wild! Be crazy! It's your night! But when you get home, don't forget to take it off.
Grace is all about the double-cleanse in these situations (washing first with cold cream or oil, then using a purifying cleanser). "If you have the time, follow with a pore clearing mask," she says. "The perfect deep-cleansing combo is a splash of Origins Maskimizer & then their Clear Improvement Active Charcoal Mask."
Don't Be A Tease
If hairstylists could tell you one thing about protecting your hair on Fright Night, it would be: Wear a wig. If they could tell you two things, the second would be: If you must tease, do yourself a favor & brush your hair out completely before you step in the shower.
You may think that adding conditioner will be all you need to remove tangles in your bouffant, but if you don't do the prep work, "your hair will end up a knotted ball that will require endless hours of rattail combing out or a major chop," says NYC hairstylist Juan Carlos Maciques. Ugh.
Live & Dye With No Regrets
Decided to go with the temporary hair dye, but don't want to start a new month with last night's look? According to NYC colorist Kyle White, the best solution for removing temporary tint is in your kitchen: liquid dish soap. For really stubborn stains, comb a facial astringent through your damp hair.
Why, you ask? "Anything that contains a high pH level will open the hair cuticle and pull out color molecules (as well as dirt, oil & product build-up)," says Kyle. Just as dish detergent grabs at grease, it (& any astringent) also strips the hair shaft of moisture, so following with a deep conditioning treatment is essential.